Top Things To Do Near Me
On a vacation in Mallorca? Great and feel welcome to our beautiful island! If you have written on google, what to do near me, Nofrills Excursions will help you to find the best tours, activities and things to do in the area. Our local experts prepared this article with instructions how to find the best things to do for you. How and where to book it and recommendations of top activities from our offer. Enjoy!
There are several options how to find the best things to do near you, when you are on your holidays. The first one, which is the most popular is just to put the phrase ¨what to do near me? ¨ in google search… Every device such as mobile, tablet, computer will show you the most accurate results. If you do not trust it 100 %, you can add the location name at the end. So the final phrase could be ¨what to near Puerto Alcudia¨. 
The good point of this option is that most of the people have the mobiles all the time with them. Using google search please do remember about the language confirmation to get the results in the correct one for you.
Mostly in every destination the first results will be those from Tripadvisor. As for many many travellers it is the most trusted and recommended source of the information about the places. You can find the places, tours,  things to do recommendations and also comments from people from around the world. 
If you scroll down you will find the information from the local and international travel companies, blogs… We recommed to book the excursions and things to do with local experts and guides. No one knows the place better than local specialists.
Option of research is good for those of you who have more time or like to do it. It is also very nice, because thanks to it you get to know the place a little and many ideas can come around.  Do not stop yourself! Seat, prepare the coffee, invite your friends to come over and have fun. Make a brain storm with ¨things to do near me + location ¨ and enjoy even before you visit the place. After that contact the local companies and enjoy the holidays!
Tip from Nofrills Experts
Local excursions companies around the world, mostly have cheaper prices, because they do not have to pay the commissions to extra agents. So check your local options during the planning.
Geolocation is the option, which you can use on your mobile to display data that can be linked to a geographic region or area. It is a very useful tool during the travelling and of course the topic of our article about ¨things to do near me¨. With this option you will get the most local recommendations and information. Depends on the device this option can be in use atomatically or you need to confirm in settings that you would like to use it. Please check the tutorial below how to do it on your phone.
If you are interested in specific region, town, place and want to find the things only there, we suggest to use filters on the websites. Normally the companies have a huge amount of the information, which can be overwhelming. Espacially on the beginning of the search. The website, which is well prepared has several option to filter the data. You can search for specific kind of the tours and things to do. You can search also for the location, or even on the kind of the tour, such as tours during your cruise stop in one of the ports. In Nofrills Excurisions web you can choose the available days or the length of the tour – whole day/half day. The filters can be found in the upper part of the web or from the left / right side. 
Book online things to do near me
The easiest way to book the things, which you would like to experience is doing it online. The best variety of tours, activities and things to do you will find on our website: Nofrills Excursions. There are several filters options to use to help you discover what would be most interesting for you, your friends or family. Very important information is that we offer the best value for money excursions. During the summer season we recommend to book the tours and activities in advance, due to huge amount of travellers.
In our offer you can find the best boat and catamaran trips. Those are very attractive and popular during summer season.
If you are staying on the northern part of Mallorca and are looking for the best boat trip in Alcudia, you landed in the perfect place! In this article our island experts prepare the information about 8 best sea trips and their activities.
Sightseeing excursions, where our local experts takes you to visit the most important and stunning places in Mallorca…
Excursions to the theme parks in Mallorca like Marineland or Palma Aquarium. Those are a perfect idea to spend family day out:
Marineland Mallorca is one of the Mallorca's best known tourist attractions, and it is in operation since 1970, being the first dolphinarium that opened in Spain. Since then, the dolphin show is one of the main recommendations for families with children in summer.
Plenty of tickets to the attractions, activities, shows, tours in Palma de Mallorca and many more.  Most of them have special deals and treatments available only for our clients. The best example is that we offer entrance tickets to Mallorca's principal attractions, with discounts of at least 10% compared to the door price. Do not hesitate and enjoy the things to do near you with Nofrills Excursions.
You can find also many useful information and recommendations on our blog. If you are staying in the north of Mallorca, we can recommend you to check our post about the best things to do in Alcudia.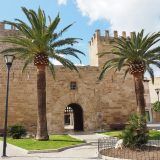 Alcudia is the most important and popular tourist place in the north of Mallorca. It is recommended for people in all ages, families with children, friends escapades or solo travellers.
Private tours in Mallorca
If you would like to enjoy some of our offers in more private way and have it disponible only for you, please contact us. We have a wide range of private experiences and tours available and will be happy to share the options with you. There is no better way to explore the Mallorca like on the roadtrip with a local guide. Caves of Drach, Valldemossa, Porto Cristo, Palma de Mallorca and many other beautiful places around are waiting for you.
Reasons to book by Nofrills Excursions
If you book your things to do on our Nofrills website you have many advantages of it:
Book things near me in the resort
If you are spending your holidays in the north of Mallorca you can also visit us in our local shops. The shops are located in following resorts: Puerto Alcudia, Can Picafort, Puerto Pollensa, Playa de Muro.
Our staff will be happy to help you choose the best tour, activities and things to do for you and your family or friends. As the local experts we love to share our kowledge and curiosities about Mallorca. Just step by and ask what would you like to know. We recommend to check before our opening hours, which are different during the season. Information about our localizations you can also get from your receptionists. 
Hope you found our article and information useful  to plan your daily activities and things to do in Mallorca during your time here. If you have any additional questions, just leave a comment below. Please share the article also with other travellers, who would need it.