14 top things to do in Alcudia
Alcudia is the most important and popular tourist place in the north of Mallorca. It is recommended for people in all ages, families with children, friends escapades or solo travellers. There is also plenty of things to see and do during your holidays. To make your choice easier our local experts prepared the list of 14 top things to do in Alcudia. We hope it will help you organize your perfect time here.
1. Stroll in Alcudia Old Town
Visit in old town is of course our number 1 on the list of things to do in Alcudia.  We recommend to stroll around the charming streets, town hall, St. Jaume church or Constitution Square with many great cafes and restaurants.  Great way for sightseeing is also a walk on the old medieval walls, from where the views are simply amazing. The town hall provides an app with audioguide, which you can download on your phone to experience it to the fullest.
2. Alcudia Roman ruins
Alcudia occupies very important place on the historic map of the Balearic Islands and Mediterranean region. One of the main ground is Ciudad Romana and its museum full of ancient artefacts. Actually today there are only the remains of Roman city of Pollentia, which was the first town founded by Romans in Mallorca. Ciudad Romana – Pollentia –  is the most important archeological spot of the islands and very unique place to see. If you would like to read more about history of Mallorca, we recommend our experts article:
Mallorca has very eventful history, since prehistoric times through Phoenicians, Romans, Moors, Medieval Kings conquests… Have a look on the moments with high historical significance, which have brought the island to its present cultural shape…
3. Visit Alcudia Market
As in many other towns and villages in Mallorca also in Alcudia local market takes place. You can enjoy it every Tuesday and Sunday from the early morning ( approx. 8 o´clock) till early afternoon (approx. 13 o´clock). There is many local products to find, souvenirs, clothes, shoes and many more. The most important… you can not miss the opportunity to try fresh fruits and vegetables, which are so delicious! To plan your best experience of Alcudia market, we recommend to check our visiting guide below:
Alcudia Market is one of the top recommendations for activities and things to do in Alcudia. In our experts article we will help you to find all useful info to make the most of your visit…
If the market was not enough as shopping experience, you can stroll around the charming streets of the old town in Alcudia and find many little shops and boutiques.
4. New excursion
In season 2020 few new excursions and activities are coming to our offer. One of them is ¨Alcudia with picnic and local guide¨! This is the best opportunity to enjoy shopping on the market, sightseeing in Alcudia and fresh air on the coast. Little picnic of delicious local products and amazing views of Cap Formentor are included. This is also a good option for those who are looking for peaceful place for sunbathing, because on the way back few small beaches are next to the route.
5. Enjoy a secluded beach: Coll Baix
Coll Baix beach is one of the most beautiful places around. You can choose to reach it by foot, but is not an easy walk – very rocky on the end. Anyway we recommend it as a nice hike and great place for a picnic with friends and family. You can also reach it by boat, which makes incredible day on the sea experience. The place is popular, but for sure not so crowded as main touristic beaches around. If you are staying for a longer period of time, you can find useful our experts recommendations of XX best beaches near Alcudia: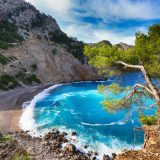 Our experts have prepared this article for you to help you choose the best beach near Alcudia and in the north area of the island of Mallorca. Choose your top sunbathing spot right now…
6. Birdwatching in Albufera
S'Albufera Nature Park is the largest (approx. 1700 hectars) and very unique wetland of Mallorca and Balearics. Grounded in 1988 and very popular to visit since the beginning. It is a perfect place for a pleasant walk or a bike ride. Park is very peaceful and calming area. You can spot a lot of species of plants and animals. It is also the best place for a birdwatching in Mallorca. We recommend this activity a lot, also if you are a beginner.
7. Bullring and Flamenco Show
You can not leave Spain without seeing the traditional Flamenco dance! The best way to experience it is to join one of the shows. There is also one in Alcudia, so no need to travel long to enjoy it. Depends on the season you can book the entrance on Tuesday or Sunday. It takes place in one of the main tourist attraction in area – bullring in Alcudia. You will not regret this experience.
The details about one of the best plans and activities among the things to do in Alcudia! Enjoy the flamenco show in the bullring located in the old town…
8. Walking in La Victoria
Walking from the old town towards the viewpoint of La Victoria can be a great way to spend the morning. A stop can be made at either of two small calas St Joan or st Pere. There are also several other places to find shade or have a cooling dip in the sea. For those more adventurous you can attempt the Summit of La Victoria although it is recommended to bring water and be prepared for an energetic climb.
9. Boat Trip
For sure one of the top activities during you holidays in Mallorca.  A day out on the see, perfect sunny weather and pure fun sounds like amazing plan! You can choose between plenty of options like sunrise and dolphin watching tour, day on catamaran with activities, traditional boat rides and many more… Some also available for your private use. For the best possibilities to enjoy a boat trip in Alcudia, please have a look on our experts article below:
If you are staying on the northern part of Mallorca and are looking for the best boat trip in Alcudia, you landed in the perfect place! In this article our island experts prepare the information about 8 best sea trips and their activities…
All options are also available to check and book on our website Nofrills Excursions.
10. Play golf in Aucanada Golf course
In our top things to do in Alcudia we can not forget about the golf culture of Mallorca. Alcanada Golf Club has one of the best golf facilities to enjoy this sport on the island. Amazing views of Mediterranean Sea also add big part to its charm. The course consists 18 holes and was designed by a famous American architect Robert Trent Jones Jr. in 2013. The club organizes many events, tournaments and offers golf holiday packages.
11. Wine tasting
Wine is one of the main productions of Mallorcan industry. Its amazing culture was growing through generations, also in the north of the island. Wine tasting tours in one of the local bodegas is very unique experience during your holidays in Mallorca. You get to know a litlle bit of the region history, production process and of course try amazing wines. More details about the wine tours and tastings you can find in our special article about bodegas and wineries near Alcudia:
In Mallorca you can find big wineries and many small family businesses, each with extraordinary range of wines to choose. Join our experts on the tours in those special 3 places and choose your spot…
12. Day at Hidropark
Hidropark is the largest and unique water park in the north of the island. Open daily is a great spot to spend a day during summer and have fun on its many facilities. There are many kinds of slides, pools and areas, also for children, which makes a place very recommended for families. Few bars and restaurants are located inside of the park, so no need to go out during the lunch time.
If after whole day of fun you will be to tired to go back walking to your hotel, you can enjoy the little local Ting Ting Train:
Ting Ting Train is a great option for things to do in Alcudia if you are on your holidays. Every 45 min you have the opportunity to catch the little train and enjoy an amusement ride with the whole family!
13. Visit local brewery
Except of wine also beer is very popular in Mallorca. You can find some very good local breweries, which are worth to visit. It can be a great idea to spend an evening/night our with your friends, while in Alcudia. We recommend to visit the one named Beer Lovers, you will not regret it.
14. Challenge
The last of our recommended top things to do in Alcudia, but for sure not the boring one is the Challenge. It is the most thrill full excursion in the north of Mallorca. It combines snorkelling, kayaks, diving in sea caves during treasure hunt, coastering and cliff jumping (all parts optional). The Challenge is also one of the most popular activities during summer season. We recommend to book it in advance, if you do not want to miss it. For all adventure seeking travellers our experts prepared this special article:
Mallorca is a perfect place for adventurers! If you are looking for action, adrenaline and activities that go out of the ordinary, we have prepared a selection of best adventure excursions…
Hope our article was useful for you to plan best holidays in Alcudia and area. Please share it with those, who could need it also. If you have any ideas, which should be added to the list, let us know and we will update it.

Facebook


Twitter


Instagram


Tripadvisor

In NoFrills Excursions we offer a wide range of the best quality tours and activities in Mallorca. We cooperate only with trusted local providers with the highest level of customer service. All of them provide clear and concise information about the pickup, timetables and itineraries. The issue of the price is always important, so click on the button below to find out about all our special prices and discounts.