Best Beaches near Alcudia
There are more than 200 beaches in Mallorca's beautiful coastline. Most of the people, who travel to Mallorca in summer are looking for a nice beach to lay down and enjoy the sun near their hotel. Our experts have prepared this article for you to help you choose the best beach near Alcudia and in the north area of the island of Mallorca.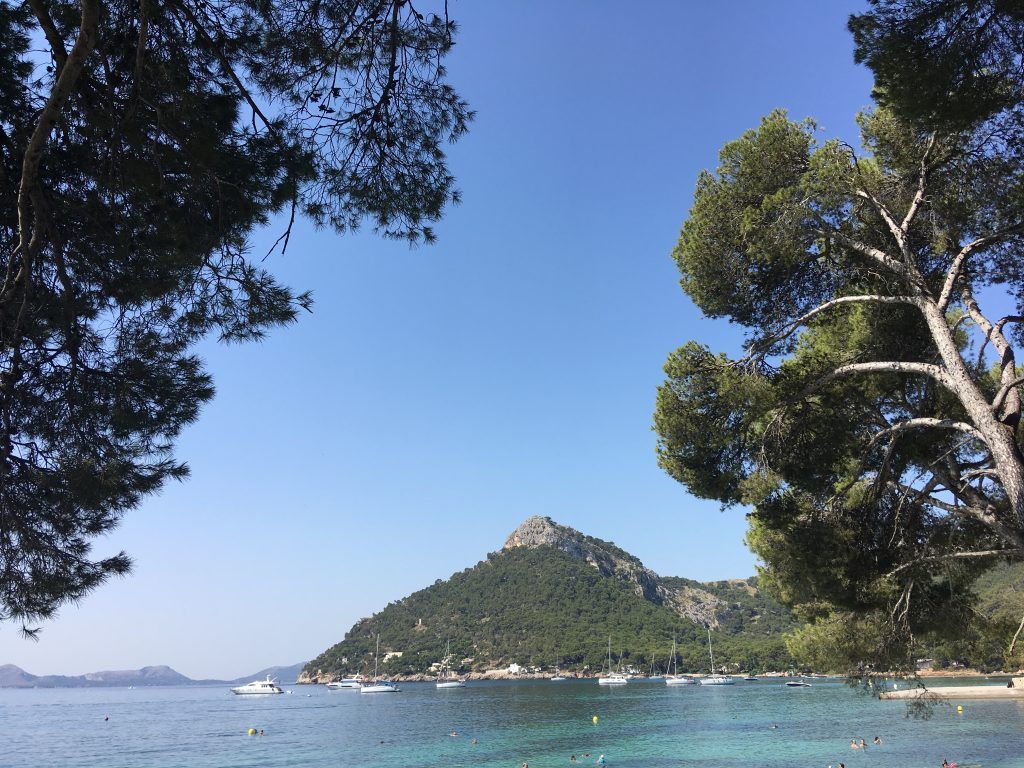 Alcudia beach
The beach in Alcudia, one of the most popular attractions in the north of Mallorca, is 35 kilometres long. It's considered one of the best in Spain, because of its fine and white sand and turquoise water.
There is plenty of space for the kids to play in the sand building castles or playing with a ball. There are a lot of sunbeds that you can hire, in case you don't want to lay on the sand, and there are also restaurants and cafes or bars where you can buy something to eat or drink without going very far away.
Here you have also some water activities and sports for the more grown-up members of the family such as parasailing, jet skis, phantom, boat trips, paddle surf, pedal boat…etc.
If you are interested in the activities you can do in the beach of Alcudia, you can have a look to our website www.nofrills-excursions.com where you can book most of the activities and make sure you won't miss it during your holiday in Mallorca!
Puerto Pollensa Bay
Puerto Pollensa is similar to Alcudia Bay, but it's around 1.5 km long. You will for sure find your space in the sand to enjoy the beautiful beach. Even though it's smaller than the Alcudia beach, the town is also less crowded.
The water is totally clean and turquoise and the beach has fine and white sand. The views from the beach are really pretty. We can see the lighthouse called "Punta de la Avanzada", located in a privately owned fortress called La Fortaleza. The fort is believed to be Spain's most expensive property. Rafa Nadal got married with his girlfriend Xisca Perelló in this place last summer.
There are a lot of activities to do here as well. To find activities from Puerto Pollensa you can check the tours leaving from there in our website https://www.nofrills-excursions.com/destinations/pollensa-port/
Playa Pollensa
There are many little beaches to enjoy sunshine in Puerto Pollensa. They are very charming, some next to the restaurants, so you can enjoy delicious coctails and admire the sea. This is also one of the best spots to try paddle board.
Our experts recommend also a walk through the promenade and at the end of it you can find nice, little, sandy and very peaceful beach named Pollensa Beach.
Formentor beach
This small beach is one of the most beautiful and popular ones in Mallorca.
The views are amazing. The water is clean and turquoise and it has a really beautiful clean colour. It can get a little busy in summer, because everyone wants to visit it. It's about one kilometre long and there is a pine forest which means that the trees provide a little bit of shade in the hot summer days.
One of the best ways to get there is by boat from Port Alcudia. We recommend you to book a 4 hour boat with a stop of 1 hour free time in this beautiful beach. Check this link if you are interested: https://www.nofrills-excursions.com/excursions/boat-trip-to-formentor/
If you prefer to go there by bus, we can recommend you another trip that picks you up from your hotel and takes you there. This tour includes an english speaking guide who will give you all the information about the history and culture of this place. You will have a 1 hour break at the beach and there is a little boat trip from Formentor beach to Puerto Pollensa included. Check it here: https://www.nofrills-excursions.com/excursions/formentor-trip-mallorca/
Cala Sant Vicenç
Cala Sant Vicenç is located about 7km from Pollensa. There are 4 different beaches there. All of them have white sand and clear and turquoise water.
The views from there are stunning, as you can see Formentor. Cala Barques and Cala Molins have easiest access, lifeguard services and facilities, but beaches that are easy to access are normally more crowded. You can also do some water activities here such as snorkelling, kayaking… And there are restaurants and bars close, if you want to have lunch or dinner after the beach day
Cala Castell
Choosing this direction our experts recommend to combine the visit in Cala San Vicente with Cala Castell, another amazing place nearby. After short hike you can enjoy another little, non tourists, crystal blue waters beach.
Aucanada
If you are more interested in a beach without sand where you can do some snorkelling, Aucanada in the Bay of Alcudia, is very nice and quiet. There are a lot of small coves where you can leave your things. Make sure you have some beach shoes, as it's a beach with rocks and pebbles and it may hurt you when you go inside the water without them.
The water is very clean and there are a lot of different fishes, which makes this beach perfect for snorkelling.
S'illot
It's a beautiful wild beach located in La Victoria, a few kilometres from Port Alcudia. This beach feels not touristic as there are no sunbeds, parasols, showers or lifeguards.
There are not buildings, restaurants or facilities along its coast, so if you want to spend a whole day there you, should take some food and water and drinks with you. There is a picnic area near the beach with tables where you can eat your snacks or lunch. The water is crystalline and the colour is really beautiful, as there are stones and pebbles in the bottom of the sea instead of sand. We recommend you to bring beach shoes as you have to walk on the stones to get in the water and it may hurt you if walk without them.
Coll baix
Es Coll Baix is a beautiful beach, one of the most beautiful ones on the island. It's not easy to get there, as you have to walk for kilometres along a pine tree forest. The walk is worthy, when you approach the beach you can see what is waiting for you at the end of the walk: a wild 250 metres beach surrounded by mountains. The sand is pretty and white, and the water is really clean and beautiful, but it depens very quickly so be careful if you go there with kids.
Sa Marina
Sa Marina is a quiet beach located less than a kilometre away from Alcúdia old town. It's about 400 metres long and its colour is a little bit darker than the beaches we are used to see in the north area of Mallorca. This colour is because of the Posidonia, a typical seaweed from Mallorca and the Mediterranean sea.
The water is clear and not very deep, so it's a family friendly beach where you don't need to be afraid of the kids going very deep in the water.
This area is perfect to do some water sports such as kite surf and wind surf, as the wind is quite strong here.
Sant Pere
This small beach is only 100 metres long and it's located near the residential area of Mal Pas in Alcudia. The sand is very fine and its child friendly but there is not a lot of space to play as it's a very small beach. The views from the beach are beautiful, you can even see Formentor beach from there. There are not many facilities there, but there is a little toilet at the beach and a bar close to it.
The water is crystal clear and as the beach is protected against the wind, there are not many waves.
Cala Carbo
Beautiful small sandy beach near Cala San Vincent. Ideal to combine two of them during a day out in summer. Nice place for picnic with family and friends.
Cala Bóquer
Not so far away from Alcudia you can plan one of your best day out, just need to be ready for a little around 45 min walk. The route is not very hard and even kids can do it. Stunning sea views are guaranteed.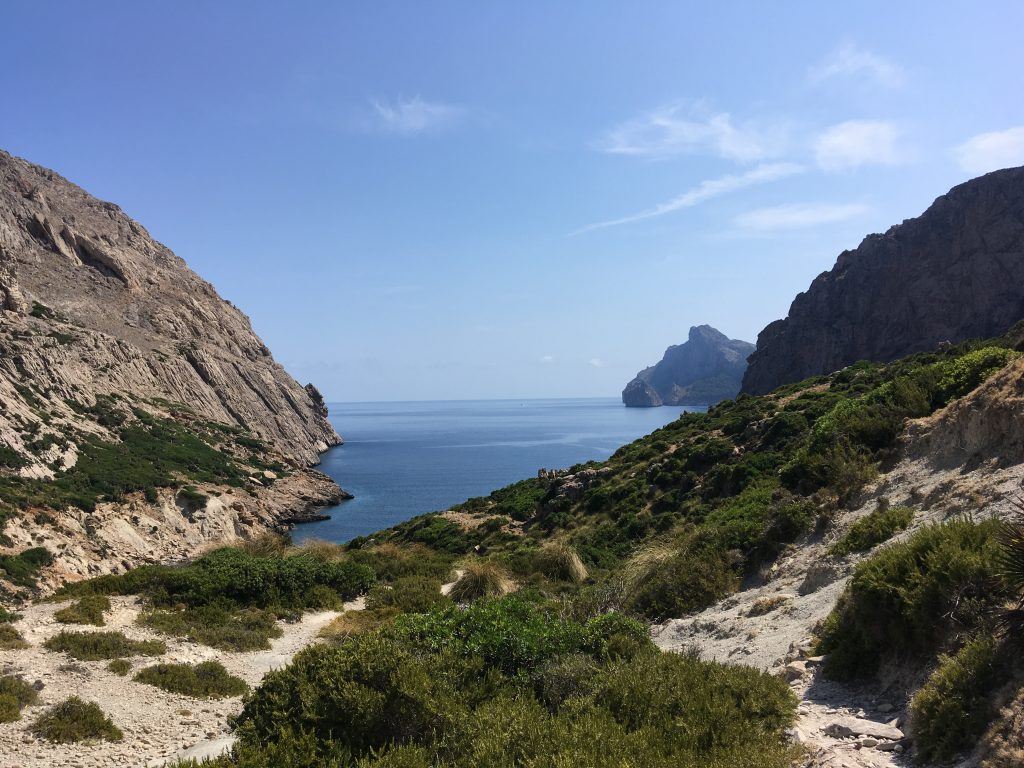 Once you get to the beach and enjoy amazing crystal clear water just be ready to share it with locals 😉
Cala Figuera
One of the most amazing beaches in the north area and very popular destination of many boat trips, hikers and sunbathing fans paradise. Located on Cap Formentor will be a nice and refreshing stop after exploring the penisula. There is a nice route to this beach, just take your picnic with you as there is no shops available nearby. In summer season when the route to the end of Cap is closed you can get there walking or by local bus.
You can visit this stunning beach with us on the Cap Formentor Boat Trip.
Cala Murta
On the opposite site of Cap Formentor you can find stunning Cala Murta. So just choose which site you want to visit, hike, bike and enjoy!
Muro Beach
One of the TOP 3 beaches in Mallorca and in Alcudia area. Few kilometers of amazing sandy beach, in some places covered with trees. No words are needed when you look at those pictures…
Perfect place for families with children to enjoy a sunny day and sandy castles.
Playa de Sant Joan
Small beach very close to Alcudia, good idea for a walk and half day out with nice picnic. From this beach you can also enjoy stunning views of Pollensa Bay and Cap Formentor.
Can Picafort Beach
Can Picafort is located not so far away from Alcudia. You can get there by bus, by bike or enjoy amazing walk through the Muro Beach with final destination in Can Picafort. It will be for sure a great day out. When you get to the Can Picafort we recommed to stroll around the promenade with many good restaurants and amazing views.
Platja de Son Real
Stunning beach, which can be reached after nice walk from Can Picafort. There is a scenic route with spectacular views through Son Real area. Totally a place when you can enjoy the nature and spend more quiet time during your holidays. Awesome spot to enjoy the day, but remember to take your picnic with you as no shops around.
During this route you can also visit Son Real necropolis, which is one of the most important archeological spots of Balearic Islands.
Na Patana Beach
Good choice if you are staying in the near of San Baulo resorts in Can Picafort. There are few really great hotels around and you can enjoy beautiful natural area.
Hope that after reading this article you found some inspiration to spend a nice day out at the beaches near Alcudia and north area. If you know some interesting place around, let us know in the comment and we will update the list.