Marineland Mallorca – Plan your visit
Marineland Mallorca is one of the Mallorca's best known tourist attractions, and it is in operation since 1970, being the first dolphinarium that opened in Spain. Since then, the dolphin show is one of the main recommendations for families with children in summer. It has received numerous international awards.
In this post we have tried to gather all the necessary information to plan your visit to Marineland Mallorca. It is a place whose visit is highly recommended in summer in Mallorca and well worth the price it costs. You can find a lot of things to see and do there. Enjoy reading and planning your amazing visit!
Shows in Marineland Mallorca
These performances are undoubtedly the greatest attraction of Marineland, and they are high-quality shows that delight visitors. While Marineland is not an excessively large park, you can enjoy several of them:
Dolphin show in Mallorca
This is the highlight of a visit to Marineland, which since 2018 is more spectacular than ever! Everything thanks to the arrival of a new coach from Loro Parque, who has added new things to it. In this show we will see how these affectionate and intelligent animals perform different acrobatics and jumps, each one more spectacular.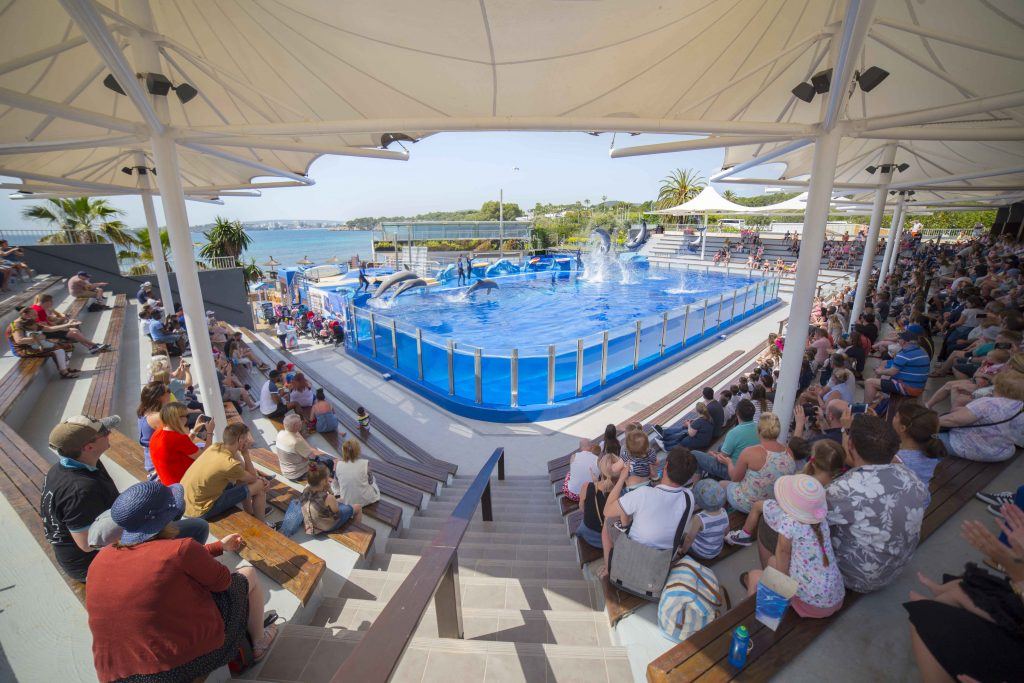 Sea lion show
Buba, Tritón, Luna or Perla are some of the Marineland sea lions that make a fun display with jumps and acrobatics. It is a very enjoyable and funny spectacle.
Parrot show
It is fascinating to see this show, and see what these animals are capable of: speaking, riding a bike or roller skating and much more! This show takes about 20 minutes, and is very entertaining for whole family.
Showtimes in Marineland Mallorca:
Please check the schedule so you can plan your visit better:
10:30 parrot show
12:00 dolphin and sea lion show
13:30 parrot show
16:00 dolphin and sea lion show
16:45 parrot show
Walk through Marineland Mallorca:
Areas
A sweet aquarium: it is a very interesting small aquarium in which we can see some fish as attractive as neons, or dangerous piranhas.
A Marine Aquarium: this aquarium is inspired by the Pacific Indian Ocean, and we find here sharks, scorpion fish or clownfish (the famous Nemo) among many others.
Mediterranean Aquarium: you will surely know how to recognize many of the fish that live in the waters that surround us, such as sea bass, sea bass, rays, blankets….
A Viarium: it is very interesting to take a walk in this space where you can find many birds, of different sizes, and each one more curious.
Tropical house: this area will fascinate both children and adults. We will find iguanas, snakes, primates, frogs and other reptiles….
Areas with animals: throughout the park we will see areas with different animals, such as penguins; stripes, tents, seals …
Kids zone
In Marineland Mallorca they take into account that a large part of their visitors are families with children. For that reason they have an area specially designed for them, where there is a swimming pool and water attractions.
Dolphin Encounter
In recent years Marineland has launched an optional activity for those interested in knowing in depth the dolphins, but at an extra cost. It is an encounter with dolphins in very small groups and accompanied by a coach. You can touch and even train the dolphins, while you learn a lot about them.
Other services in Marineland:
In the park you will also find a restaurant with a self-service and à la carte area: with variety of snacks and pizzas.
We also found a store with products related to the park with many options for gifts and even personalized items. Good to know that you also have an access to a small and quiet sandy beach, that is ideal for a relaxing moment. You can also take time to enjoy a walk to Portals Nous, great and luxury harbour located nearby.
Marineland Mallorca Schedule
Marineland opens its doors during the tourist season. Its opening date is before the start of Holy Week – this year 30.03.2019- and park remains open until the end of October. Open daily between 9:30 and 17:30, except in July and August, when it is open til 18:00.
How to get to Marineland:
Getting to Marineland is very easy, and there are different options available:
If you come by car, you have to take the motorway that goes from Palma to Andratx. You must take the Costa den Blanes exit, and at the first roundabout you will see Marineland. There is an outdoor parking area for visitors to Marineland.
It can also be reached by public bus, as bus lines 104/3/6/7 that connect Palma with Magalluf and Paguera have a stop located next to Marineland.
The park also offers a free bus service to take you to the park from the different resorts in the south of the island; from Arenal to Paguera.

If you choose one of those possibilities you can purchase the online ticket with discount.


If you have come on vacation and you are staying in the north of the island (Alcudia, Puerto Pollensa, Can Picafort) you have the option to join organized excursion, which includes round trip bus along with the entrance to Marineland and entrance to two dolphin shows.
Swim with dolphins in Marineland
One of the most common questions when planning a visit to Marineland is this. Unfortunately, the answer is no, since swimming with dolphins is not allowed. While there are other countries where it is possible, this is not the case in Marineland, and you cannot swim with dolphins.
Hope that our article was useful fo you to plan a visit in Marineland Mallorca. If you need any additional information or want to share your comment about the place, please leave us a comment.