10 fascinating places to visit in Mallorca
The list of places to visit in Mallorca is almost endless with many sights and tourist attractions. From beaches to mountains, from cities to small towns, from theme parks to monuments … We have made a selection of 10 fascinating places in Mallorca that you should visit or take advantage of #stayathome time and plan your best after lockdown Mallorca sightseeing.
The Tramuntana mountain range has many fascinating places, but if we have to mention one of them, it would certainly be Sa Calobra. Only the road to Sa Calobra is well worth the drive. It is a road of 13 kilometers, with spectacular sections and views that leave you speechless. And in Sa Calobra we have the ending of the Pareis stream, another highly recommended place to visit.
You can also find more information in our special article about La Calobra:
La Calobra is one of the most visited places in Mallorca, located in the Sierra de Tramuntana, in the municipality of Escorca. In this guide to visit La Calobra, we want to share a lot of practical information and curiosities...
In Mallorca there are many fascinating villages, and it is difficult to choose one in particular. We have chosen Alcudia because it offers many attractions:
a sandy beach considered one of the best in Mallorca
Historical heritage with the ruins of the ancient Roman city of Pollentia
its medieval walls of the 13th century
a historic urban center for a beautiful walk
And remember that every Tuesday and Sunday, there is a local market with fresh vegetable and fruits, handicrafts, local food to try and many more. We recommend to check our Alcudia Market Guide for useful details how to plan your visit there.
Alcudia Market is one of the top recommendations for activities and things to do in Alcudia. In this article you can find all useful information as location, time...
Mallorca receives 10 million tourists every year, but 70 years ago there were hardly any hotels or tourists. Life was different, the economy was based on agriculture, people lived in the interior of the island … Therefore, visiting Els Calderes estate is travelling back into the time and exploring what Mallorca was like before tourism, knowing a Mallorcan possesio.
The most fascinating beach in Mallorca
With more than 500 kilometers of coastline, Mallorca has some spectacular beaches and coves. Of all of them, the most renowned, and one of the most fascinating in Mallorca, is the beach of Es Trenc. It gives you the feeling to be in the Caribbean: beaches of fine sand, turquoise waters, isolated areas and other areas with all services, from hammocks to beach bars … and best of all: without hotels! 
For planning your best beach day out we recommend you to check our experts arcticle about best beaches in Mallorca.
There are more than 300 beaches in Mallorca, from sandy beaches to pebbled coves. Here are some recommendations of some of the best beaches in Mallorca to suit all tastes...
The Cabrera Archiperlago has been visited by all the great civilizations of the Mediterranean: Phoenicians, Carthaginians, Romans, Byzantines … due its strategic position and its beauty, which have turned it into a national park. The  only way to get to Cabrera is by sea by  taking a tourist boat that has its departure point in the port of Colonia de Sant Jordi. In all tours there is free time in Cabrera for:
A swim, sunbathe or snorkel in one of the beaches of the island
A visit of the Castle of Cabrera and to enjoy its spectacular views
To perform some of the optional activities of the park
Also, all options include a visit to the Blue Cave / Sa Cova Blava , one of the main attractions of Cabrera, so you can experience unique sensations while swimming in its blue waters.
Fascinating places under the ground
Mallorca hides authentic treasures, and among all of them, one stands out. It is one of the most visited cave in Europe, the Caves of Drach. The visit is to travel a magical world of different rooms with incredible rock formations, lakes, a multitude of stalactites and stalagmites, and the "icing on the cake" is Lake Martel. It is one of the largest underground lakes in Europe, where you can enjoy a boat ride and a concert of classical music.
Visit in the Caves of Drach is a ¨must to do¨ during your holidays in Mallorca. Before the visit you can also check out information about the best photo spots inside the caves:
The Caves of Drach is one of the most popular highlights to visit on the island. In this post we share the best locations to take photos of Caves of Drach...
Throughout the Sierra de Tramuntana we find many places that offer superb views of the sea, but none like the Cape of Formentor. It is a magical place, isolated, with an exclusively road. A place with views that "take the hiccups" (as well as the prices of its bar ) but that is and should be a must in Mallorca.
A visit can be combined with the beach of Formentor or Cala Figuera. Both stunning and with crystal blue waters, which are perfect for snorkelling and swimming.
For more information about the Cap Formentor we recommend you to skip to our article devoted to this area: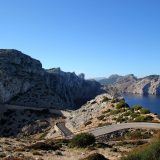 Formentor is one of the most visited areas of Mallorca. Join our experts on their way to explore this part of the north of the island and enjoy the best of it...
More than a fascinating place, here we talk about a fascinating way to reach it: on a wooden train built in 1912, and unique in all of Spain. If you add a town like Soller where you can take a walk through its streets knowing different modernist buildings, don´t forget to stop for an orange juice in one of its bars in the square, take the tram to go down to the Port … To visit Soller by train from Palma is a great thing to do on the island.
If you would like to enjoy the ride on the Soller Train you can join our TOP Tour: Island Tour Excursion, where it is a part of the route.
Capital of Mallorca and amazing city. Most of the most important places to visit are located in old town as Cathedral La Seu or Almudaina Palace. It is also great place for shopping. You can find there the many attracions as Palma Aquarium, Marineland or big water parks, where you can spend great days out with family and friends. Palma de Mallorca is for sure a place where everybody will find something interesting to see and do.
If you are staying on the north part of the island and want to get to Palma, check our article with all possible options:
If you want to organize your trip to Palma from Alcudia during your holidays on Mallorca we have prepared some solid info to help you make the best decision.
One of the most beautiful villages in Mallorca and Spain. Perfect place for relaxing and charming walk around the streets full of flowers and little shops, cafes and restaurants. One of our top places to visit in Mallorca, even if you coming only for few days.
If you visit Valldemossa we recommend the visit in Carthusian Monastery.
If you like to visit similar places, have a look on our ideas in the article below.
Mallorca is full of history, natural parks, beaches, gastronomy and many more.In this article we are going to recommend three beautiful villages of Mallorca that you should visit...
Hope you enjoyed our recommendations of places to visit in Mallorca and now can plan your future in the best way possible. Any questions or opinions about the places? Leave us a comment below.
In NoFrills Excursions we offer a wide range of the best quality tours and activities in Mallorca. We cooperate only with trusted local providers with the highest level of customer service. All of them provide clear and concise information about the pickup, timetables and itineraries. The issue of the price is always important, so click on the button below to find out about all our special prices and discounts.