Mallorca (Majorca) In May – The Best Things To See And Do
With the departure of the Easter celebrations, we welcome the month of May and the official beginning of the summer season in the Balearic islands. May is one of our favorite months! We can start to enjoy sunbathing and swimming in the sea again. So enjoy our guide about Mallorca in May and pack your suitcase for the summer trip! 
The weather in Mallorca in May is pleasant. During the day you can take part in outdoor activities without the risk of overheating. The weather is perfect for cycling and sports such as hiking and swimming in the sea. There are approximately 14 hours of sunshine and it's starting to feel like summer.
Mallorca can be hot in May, so you go to the beach and sunbathe. As an average, the daytime temperature can vary between 20-25 degrees. The highest temperature recorded in May was 35 degrees in May 1958.
Yes, and hopefully it will be nice and hot for you.
In your suitcase to travel to Mallorca in May, you will need shorts and T-shirts during the day. It is also recommended to bring a jersey and a light jacket just in case.
Yes, it will rain in Mallorca in May. We can´t say with any certainty when it will rain, but sometimes there can be storms . The best advice is to be prepared just incase.
The Sunrise is at around 06:30 and the sunset at 21:00 approximately.
You can check the average temperature on the official website of AEMET. This is the official website of the state meteorological agency. Here you can find useful statistics on temperature and average rainfall.
What to See and Do in Mallorca in May
May in Mallorca is the beginning of the main tourist season. All the attractions are open and prepared for the influx of visitors. Here we will try and give you some inspiration for interesting activities and events that you can enjoy with your family.
What can I do with children during May?
Here we will outline some of our favorite beaches to visit in May. Some are off the beaten tourist track and will need a hire car or some independent modes of transport as public transport is not guaranteed.
A visit to the beach with the family
There are many secluded beaches in Mallorca, Es Trenc on the east coast being one of the most famous and frequently visited. There are endless secret calas and small coves that are difficult to get too and of course, you won't find much competition for a space on the sand. This is all well and good if you are a couple with time on our hands and romance in the air but with 2 children and the contents of the apartment in tow and nearly the kitchen sink, the priorities change a little. What is needed is a beach with easy parking, a wide sandy beach and shallow water with access to toilets and somewhere simple to get drinks and food and preferably a supermarket as well. Here we will give a few examples of places we like that are convenient and are some of our family favorites.
This has to be our top pick for somewhere to take the family and especially if you have very young children. The beach is enormous and even if there is an escape attempt, as long as you have encamped in a good location there is no way mum or dad won't catch the offender before they reach the shoreline. There are plenty of beach bars to get snacks and small spar supermarkets dotted around. There is a large burger king in the port of Alcudia as well as several big-name fast-food outlets. The beach bars are expensive, but there are also many small mom and pop fast food places that are value for money.
The water in the port is shallow and this beach stretches for about 10 kilometers so there is plenty of space. Parking is usually not a problem, and we recommend having a look on google maps before you go and deciding the general area that you want to visit. Then you can check for landmarks as when you drive to Alcudia the beach is not visible from the main road. Parking is free in Alcudia, but pay attention to entrance and exit ways and remember at weekends it is generally much busier than weekdays.
If you are staying in the north of the island, we also have a seperate guide with the list of the best beaches near Alcudia. Check it and plan your best beach experience in Mallorca in May!
There are more than 200 beaches in Mallorca's beautiful coastline. Our experts have prepared this article for you to help you choose the best beach near Alcudia and in the north area of the island of Mallorca.
A visit to Santa Ponsa Beach
The beach in Santa Ponsa evokes memories of childhood. It's a firm family favorite for us as all there are ingredients are required to have a great day at the beach. Shallow water, a great beach bar, and plenty of room for the children to run around. Parking in Santa Ponsa can sometimes be difficult to find so again it's better to plan in advance and have a look at the general layout of the town as there is a one-way system in place in several areas. There are 2 large car parks in the resort and both are near the beach.
A curious attraction on the beach is the colony of monk parakeets, these are small green parrots that are not indigenous to the area, but are the result of released pets many years ago. The colony has grown considerably and can be quite fun for the children to watch.
For those of you who would like to explore more beaches around Mallorca in May we have prepared the special article with our expert,s best info.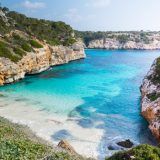 Mallorca in May offers plenty of things to do and to visit while on holiday, and you will probably want to spend a day or two at one of the stunning beaches. Check the info about the best of them directly from our experts.
A visit to Son Serra De Marina Beach
There is never a summer that passes that we don't make at least a few visits to the beach at Son Serra de Marina. This is a beach popular with locals as many have summer houses here and it is not a beach that is near to any tourist resort. Son Serra De marina can be described as a village that comes to life in the Summer time and hibernates in the winter time as most of the buildings are summer or weekend houses.
There is no industry to speak of and the main pastime is going to the beach and enjoying the sunshine and the sea. There are a few restaurants and the main beach bar is called café Sol which is just a stone's throw from the main sandy beach. We have to say that there is always a great atmosphere at café sol and especially if they have live music. It's a great place to spend a summer afternoon with children of all ages, the food is also great.
Spotlight on Gastronomy - whats interesting to eat in Mallorca in May
This Mallorquin farmhouse favorite may not grace the tables of many fine-dining restaurants, but it will surely be one of the highlights of your gastronomic experience whilst in Mallorca in May. This is a hearty thick soup and just the ticket to satisfy your hunger for Mediterranean cuisine.
Ingredients of the sopa de matanzas include pork loin and rib, butifarron sausage, onion, garlic, parsley, mushroom, tomato paste, Mallorcan soup bread which is thinly cut, salt and pepper. The dish is prepared in a traditional Mediterranean greixonera (earthenware dish) and served piping hot.
Although not on the menu card in many tourist restaurants it can be commonly found in local establishments in many pueblos and often included on a menu del dia.
Lechona Asada a las Hierbas con patatitas doradas
The lechona is a typical celebratory dish that can be found throughout Spain. Here on the Balearic Islands there is a particular breed of pig that is used, because they are bread and fattened naturally either in the mountains or on the few farms that specialize in free-range pig husbandry.
One such producer can be found in the northeast of the island, at Rancho Grande. The owner specializes in the breeding of Porc Negre. It is an indigenous species of pig from the islands with a particular skin type that gives it the ability to withstand the different challenges the Balearic climate can throw at it. The pigs live in the open air all year round foraging for acorns, figs, and fruit from the extensive orchards that Rancho Grande has. This gives them a quality that cannot be said of any Mass-produced animals.
Rancho Grande has its own restaurant that is open daily and we recommend booking in advance.  They have spectacular views over the countryside and are only a few minutes' drive from the beach at Son Serra De Marina. The Ranch also proved an island-wide service to villas and private houses. In this case, the Lechona is cooked in one of their wood-fired ovens and transported to you ready to eat. This service is quite popular for celebrations and especially in the summer months for clients who have big families in villas etc. As to prepare a full Lechon can be an all-day affair and let's be honest who wants to spend all day cooking on a full day of their summer holidays.
This classic Spanish comfort food is a warming and a healthy way to enjoy seafood without breaking the bank. This is a farmhouse method of combining local seafood and pasta noodles in a tasty soup. Ingredients are Spanish noodles that are typically made with durum wheat and are quite similar to Italian noodles. Onion, peppers, garlic, Tomato paste, Calamar, Prawn, Clams, Langoustine, mussels, White wine, olive oil, and saffron. Sometimes the saffron can be substituted by a less expensive alternative. 
The chef uses their alchemy to convert these ingredients into a magnificent tribute to the local seafood and can be enjoyed and many local restaurants and can often be found on a good Menu de Dia, a real taste of the sea.
A drop of good stuff: Palo and Herbias to keep the doctor away
For the last 20 years, the village of Selva at the foot of the Tramuntana Mountains has been holding a fair that is dedicated to the magical and mysterious qualities of herbs and plants. Each year, the Fira de Ses Herbes celebrates the olive leaf, rosemary, orange flower, the fern, estepa Joana, and arrayan. Estepa Joana is St. John's Wort, while arrayan is derived from an Arabic word for the aromatic plant, and in Selva, this refers to myrtle.
Only one of these six is, strictly speaking, a herb and that's rosemary. The word 'herbes' does therefore have a rather broader meaning, but what these six all have in common is their health-giving properties. Myrtle is beneficial in fighting pain and fever and it is the plant that takes center-stage at the Selva fair. Village folk head off from 7.30 am to pick myrtle. When they return, it is distilled as myrtle water. 
The Catalan word herbes is the Spanish hierbas and Hierbas liqueur is to be found in abundance in Mallorca's bars and supermarkets. Primarily a digestif, the liqueur is said to originate from the sixteenth century, but it is probably older. There is evidence to suggest that monks in medieval times were making it as a digestive aid.
Hierbas is essentially a Mallorcan invention. It is an aniseed-flavored liqueur made mainly by extracting the aromas of various plants. In times gone by, it combined pretty much whatever was available – rosemary, fennel, juniper, orange, and lemon peel, and so on. It wasn't until the end of the nineteenth century that formulas and standards started to apply, and this came with the founding of various distilleries. One of these produces the Túnel brand, a name synonymous with Hierbas.
Palo, the original Spanish name for quinine was also originally conceived as a medicinal aid. From the seventeenth century, its principal use was as a remedy for malaria, which was once a serious problem in Mallorca's coastal wetland areas. It contains quinine and gentian, both of which are traditionally used for malaria. Palo de Mallorca originated in Mallorca, yet its original ingredients – gentian and cinchona (which yields quinine) – were imported from South America. Locally-produced concentrated sugars from grapes, figs, and carobs were added and took away most of the astringent flavour. Palo, a dark liqueur, is now enjoyed in the Balearics before dinner to whet the appetite.
Over time, the quinine and gentian content was reduced. The medicinal properties of Palo have long since been superseded by its more pleasant taste and alcoholic content. In Mallorca, Palo liqueur is the aperitif to the Hierbas digestif. We recommend to try both during your stay in Mallorca in May 😉
Mallorca's colourful tourism history
Tourism in Mallorca was once for a select and wealthy few. It is sometimes said that tourism started here in the late nineteenth century when the Austrian Archduke Louis Salvador invited intellectual friends to stay at his various properties, which included Miramar in Valldemossa.
In the early twentieth century, these tourists mingled with figures from the world of the arts – poets, novelists, and painters. El Terreno, then just a suburb of Palma, became a popular place for visitors. The city was naturally at the heart of this tourism. In time, coastal parts of the island also started to open up to tourism.
Cala Ratjada was a summer retreat for Mallorca's rich, none more so than the "infamous" banker, Joan March Ordinas. You can find a branch of the Banca March in every town, set up by the multi-millionaire businessman from Santa Margalida. His first business involved smuggling tobacco into Spain from North Africa. During World War I, he became rich by trading with both the Allies and Axis. It was the beginning of a very colourful career. The March family are among the most wealthy people in Spain today.  A palace was built for him at Sa Torre Cega. The palace and gardens are open to visitors.
Soller, in the northwest, and its port attracted French visitors, a reflection of a historical sea-trading association. Pollensa and Puerto Pollensa, meanwhile, started to appeal to the British and the Americans.
Puerto Pollensa and north of Mallorca
This was in part due to the reputation which Pollensa had acquired as a center for painters, whose works promoted Mallorca and especially the northern region of the Tramuntana Mountains. They came from Catalonia, from Central America and South America to paint. The Pollensa 'school' was a term adopted by a friend of some of these painters – a journalist called Pedro Ferrer. There were also some hotels, such as the Miramar Hotel, which opened in 1912. But it was developments in the 1920s that really put Puerto Pollensa on the map. Two more hotels – the Hotel Formentor and Illa d'Or – opened at the end of that decade, but in 1924 there was an occurrence that the tourism authorities of the time could not have planned.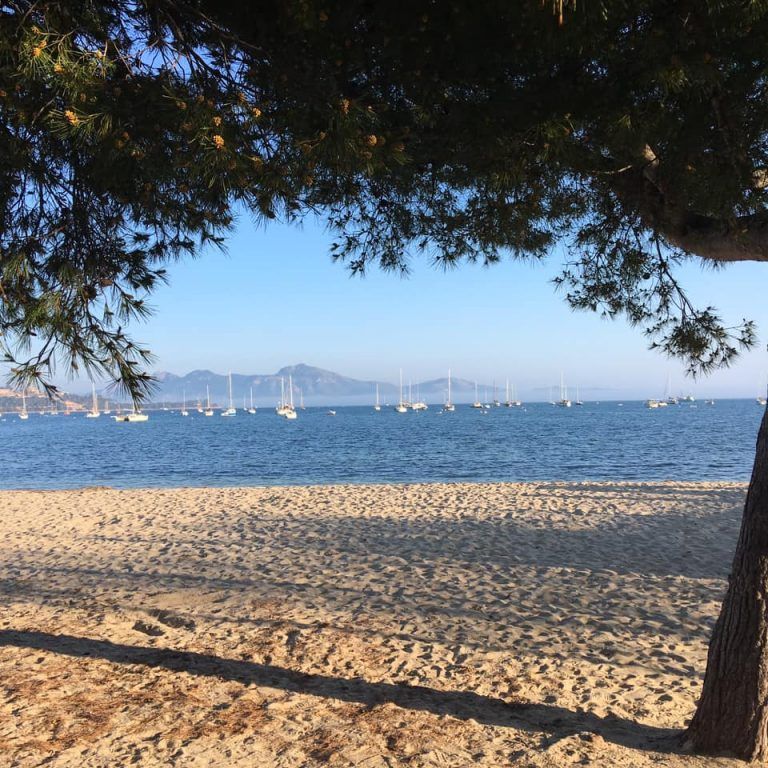 In 1924, the British Royal Navy in a major show of force combined both the Atlantic and Mediterranean fleets off Pollensa. Battleships, including the mighty battlecruiser Hood, cruisers, destroyers, submarines, and support vessels all dropped anchor in the Bay of Pollensa in 1924. Enthralled with the beauty of Pollensa, many of the Royal Navy sailors returned to holiday in Mallorca and they spread the word of Mallorca's beauty worldwide.
In 1932,
Agatha Christie
came to Mallorca for the first time. There was nowhere to stay in Palma, so she took a taxi, intending to book into the Hotel Formentor. As she passed through Puerto Pollensa, she realized that this was where she wanted to stay. While at the Illa d'Or, she wrote, 'Problem at Pollensa Bay'.
We hope you have found this article about Mallorca in May useful, and that it helps you to plan your travel to Mallorca. If you liked the article, please share it on your social networks so other travelers can see it. If you have some extra suggestions for January in Mallorca, leave us your comment and we will add it to the article.
Mallorca in May
Mallorca in June
Mallorca in July
If you are looking for more tours and activities we recommend to visit our website:
In NoFrills Excursions we offer a wide range of the best quality tours and activities in Mallorca. We cooperate only with trusted local providers with the highest level of customer service. All of them provide clear and concise information about the pickup, timetables and itineraries. The issue of the price is always important, so click on the button below to find out about all our special prices and discounts.