Mallorca in April – The Best Things to See and Do
Mallorca in April is a true gem. It is a very good time to travel to Mallorca, especially if it coincides with Easter time. During April most of the tourist places open as it is the start of the Season, normally related to Easter holidays. The weather is really nice and there are many things to do and to visit in Mallorca without being very busy.
Mallorca Weather in April
The weather in Mallorca in April is lovely, and slowly the temperatures increase as we get close to May. Still at night time is a bit chilly, and there could be some rainy days. The days are long with at least 10 hours of sunshine.  Below you will see the most frequent questions about the weather in Mallorca in April:
Mallorca is warm in April, and the highest temperature recorded in April in Mallorca is 29 degrees. As average the day temperature is 19 degrees, but at noon it can reach 25 degrees and at night time 12-14 degrees.
In April it is warm enough to sunbathe in Mallorca. The sea water is still cold but you can already swim.
In your suitcase to travel to Mallorca in April, you will need shorts, light trousers, T shirts during the day and a cardigan for night time. Don't forget the beach stuff such as towel, bikini and sun cream.
The Sunrise is at around 07:30 and the sunset at 20:30 approximately.
Mallorca Holidays and Events in April
Without any doubt the main Event in April in Mallorca is the Easter Holidays. Being a catholic country, Spain has some rich cultural traditions in Easter. Mallorca is no exception to that.
In Mallorca Easter is celebrated very festive and whole month of April is eventful.  For some people it is a start of the new season, and for others the most important religious celebration and great tradition. 
If you are planning to visit Mallorca during Easter you should reserve some time and join one of the impressive processions. They are organized around the island, but the main events take place in Palma de Mallorca. The most worthy ones to see are organized on Palm Sunday and Holy Friday. Easter in Mallorca is a nice time to meet with friends and family. 
For more information about the Easter Processions we recommend our experts article: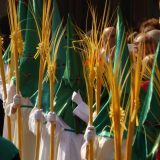 Easter processions are very important in Mallorca. You can now (since 2018) enjoy 9 of them during the Holy Week. Our local experts prepared for you the ultimate guide about those celebrations, with dates, infos and routes...
Easter is also a good time to try local cuisine with specialities of the season like Robiols. They are sweet half-moon shaped pastries made from flour, sugar and egg and filled with marmalade, angel's hair (made from pumpkin), or "brossat" (curd cheese). For more culinary delicious details you can check our special article about Easter in Mallorca.
Palma International Boat Show
The port of Palma is one of the most important ones in the Mediterranean Sea. At the end of April holds the Palma boat show exhibition with more than 82000 square meters dedicated to nautical tourism. On this fair, you will find some super yachts, big boats, traditional boats… and many stalls related to this type of tourism. There are also some food events related to the fair which are a good option to taste delicious tapas made with products from the sea.
What to See and Do in Mallorca in April
With over 10 hours of sunlight, there are many things to see and do in Mallorca in April. The island is still not as busy as it will be in the next months comings, so it is an ideal time to explore it. In April, we start offering bus tours and boat trips. You can check on our excursion page the available options by filtering for the desired dates.
Tourist attractions in Mallorca
One of the most common questions that travelers have, when thinking about coming in April to Mallorca is to know if everything is open. The answer is yes. As Easter is normally in April, most of the tourist places take the opportunity to open in April. This includes theme parks such as Katmandu Park or Marineland amongst the most popular ones. The water parks still remain close, as they don't open until May.
One of the top things to do in Mallorca is a boat trip. Unfortunately, not all the boat trips are available in April. Most of the boat companies doesn't start until May, especially the big catamarans. You can find some small catamaran options for maximum of 12 people available, but sometimes they require a minimum of people to run the trip.
Some great boat options in April are the boat trip to Formentor or the 1-hour boat trip in the bay of Palma. Another option available during Easter is the Sunrise and dolphin boat trip departing from Port de Alcudia.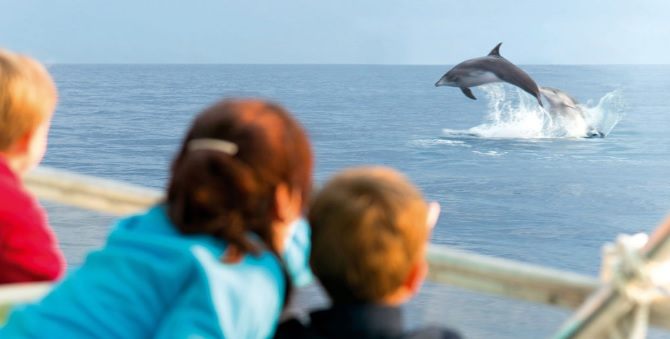 If the weather is nice in April, to visit one of Mallorcan beaches can be a very good option. As the water is still cold, you might not want to spend all day there, just a few hours to enjoy the views and the sunshine. A very good option in April in Majorca is to combine the visit to a beach with a walk. There are some lovely walks in Mallorca passing beaches or hidden coves, and this can be a perfect thing to do in April. If you stay in the north of Mallorca (where we are based), we have some recommendations:
A walk from Alcudia to Coll Baix Beach. This is a very small secluded cove.
For similar places ideas, please have a look on our special article: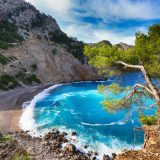 Local experts article with recommendations of hidden coves in Mallorca. If you are looking for a nice place to relax in quiet and nature... this article is for you...
Visit the Alcudia market on Tuesday or Sunday, and then do a coastal walk to Barcares, More Hotel and Sant Joan and Sant Pere beaches.
To prepare the most of your local market in Alcudia experience, enjoy our guide with all useful informations: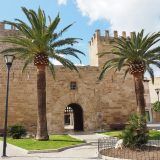 Alcudia Market is one of the top recommendations for activities and things to do in Alcudia. Check our experts info about what to buy, what days it takes place, the timetable…
For those staying in Port de Pollensa, a walk to Cala Boquer or a walk from Port Pollensa to Cala San Vicente.
For all beach and sunbathing fans our experts prepared the list of the best XX beaches near Alcudia: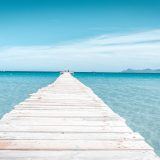 There are more than 200 beaches in Mallorca's beautiful coastline. Our experts have prepared this article for you to help you choose the best beach near Alcudia and in the north area of the island of Mallorca.
We would recommend you to visit Mallorca in April. The good weather is combined with holiday cheaper prices (and some last-minute deals), the options of many things to do and the possibility of enjoy some quiet beach days sunbathing and relaxing.
We hope you have found this article about Mallorca in April useful, and that it helps you to plan your travel to Mallorca. If you liked the article, please share it on Facebook so other travelers can see it. If you have some extra suggestions for April in Mallorca, leave us your comment and we will add it to the article.
In NoFrills Excursions we offer a wide range of the best quality tours and activities in Mallorca. We cooperate only with trusted local providers with the highest level of customer service. All of them provide clear and concise information about the pickup, timetables and itineraries. The issue of the price is always important, so click on the button below to find out about all our special prices and discounts.