Top 10 Best Experiences in Mallorca according our clients in 2019
The year 2019 is step by step coming to the end. After our research we would like to share with you the 5 best experiences in Mallorca according our clients in this year. There are a lot of things and activities to do in Mallorca, when you are on your holidays or in the planning moment. Hope that after reading our article your decision will be easier to make in 2020.
10. Jeep Tour
Our top 10 experiences list begin with Jeep Tour, which is for sure exciting and interesting way to explore the island. You can drive the car or just join as passenger. During the tour you can explore Tramuntana Area and thanks to several stops, get the explenations from the guide and admire amazing views around.
The second part of the tour is a break in traditional Finca, where you can enjoy lunch (not included in price) or refresh in swimming pool. This is a idea of the day out you will for sure remember for a long time.
9. Dolphin watching in Alcudia Bay
Very unique and amazing experience in the north of Mallorca. Can you imagine better way to start a day then admire the sunrise during spotting the dolphins in Mediterranean Sea? Excatly! Our clients loved this activity, so if you would like to join the tour, do not hesitate to book it in advance, especially in high season (July, August).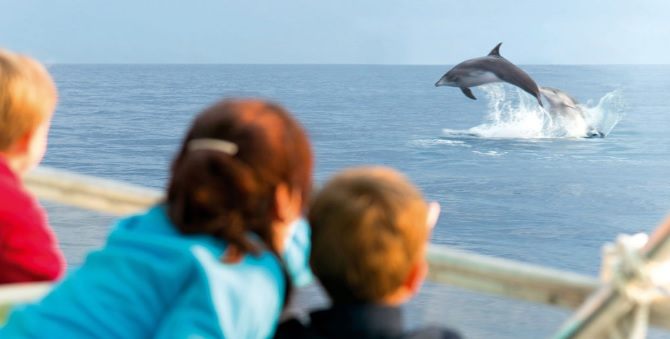 There is also a little breakfast included in price. As local experts we can recommend this tour for families, because even with early wake up, it is something worth to get up at this crazy hour.
8. Food Tour in Palma de Mallorca
Very popular new experience among our clients, which gives you the possibility to get to know the island through its culinary. This foodie tour in Palma de Mallorca combines the tasting of Mallorcan specialities with charming walk in the old town. Our local guide will share with you the culinary details, knowledge about Mallorca and Balearic Islands.
During this 3 hours walking tour you can also try some of traditional liqueurs and also visit the local market. It is fo sure one of unique ways to get to know our island. Highly recommended if you are staying in the south of Mallorca or in Palma city.


7. Speed Boat
Looking for thrill time during your holidays? This is one of the best adventurous boat trip experiences in north of the island. Jumping through the waves and possibility to admire stunning views of the Alcudia Bay coast is something to really look for.
During speed boat tour you get the chance to visit one of the most beautiful coves around – Coll Baix. It is hard to reach by car and challenging by foot, so do not hesitate to book the tour.
6. Horse riding with BBQ
Good activity for beginners and advanced riders. There is no better place to try horse riding for the first time as in Mallorca! This can be also nice gift for someone´s birthday. After the ride you will have an amazing fun during BBQ dinner and dancing show. Can´t wait to try traditional sangria? Check more details here.
There are also another options to choose f.e. horse riding at the beach, which can create beautiful family memories from your holidays.
5. Marineland
The tour to Marineland in Mallorca is a great idea for the day out with family or friends.
Very popular among our clients, because of famous dolphin, parrot and sea lions show. Good restaurant with snacks and nice private beach next to it, makes it an awesome place to spent a day and enjoy all activities during your holiday in Mallorca.
In 2019, in Nofrills Excursions we have developed an exclusive "Only with us" tour to Marineland Mallorca. Our clients are picked up after breakfast at their hotel or at a point nearby by the bus and a guide, so no need to get up early or to miss the breakafast at the hotel. They can watch the dolphin show twice if they want. They have preferential entrance to the dolphin show and the kids get an small present.
4. Valldemosa & Soller
Two incredibly charming towns of Valldemossa and Soller are really worth your time. Located in between Tramuntana Mountains will surely add piece of nature, history and culture of Mallorca to itinerary of your vacation. Totally ¨must to do¨ on the list of the sightseeing on the island.
In 2019, we have introduced a new route by starting the tour in Valldemosa. Thus, our clients can enjoy the unique experience of walking arround in Valldemosa through the peaceful of this magical place or they can relax and enjoy a coffee while they try one of the local delicacies such as the "coca de patata", as at this time of the day we usually have the charming town to ourselves.
This also allows us to stop for a photo stop at Sa Foradada viewpoint, one of the highlights of this excursion in Mallorca.
Then we visit the Soller valley including a tram trip from Soller to the Port de Soller. Our clients have free time in each place to explore on their own.
3. Palmabus
Best option to combine sightseeing with shopping, stroll around our capital of Mallorca, boat tour in Palma Bay, Cathedral sightseeing and sunbathing.
With so many things to do in Palma, there is no time to waste while you on holidays in Mallorca. That is the reason that our day excursion to Palma de Mallorca is so popular among our clients, who would like to enjoy mallorcan main city to the fullest.
In 2019, we have also included different extras. Our clients can buy on the bus such as skip the line tickets in the Cathedral of Palma de Mallorca, a one hour boat trip in the Bay of Palma and a premium option with a guided walking tour in Palma old town and the tickets for the Cathedral. The premium option has a duration of one hour and a half: 45 minutes guided walk and 45 minutes in the Cathedral.
2. Caves of Drach
Second place of best experiences in Mallorca goes to our tour, which takes you to Caves of Drach in Porto Cristo, located in the east area of the island. For sure must to visit place during your time on the island. With its amazing nature creations of stalagtites and stalagmites and one of the biggest underground lakes in the world – Lake Martel (sightseeing with boat trip) – totally deserves place on the podium of the top 5 Best Experiences in Mallorca.
In 2019 we also had the half day tour to Caves of Drach in the offer. It was very popular thanks to the late pick-up after breakfast, possibility to comeback on time for lunch or afternoon at the beach or at the pool.
During the full day trip you also get the opportunity to visit the local market in Sineu, which is one of the biggest and oldest market in the island. There our clients can try fresh products such as fruit, vegetables or buy handicraft.
1. Island Tour
And as the number 1 of experiences in Mallorca in 2019 we have our popular Island Tour. Epic and unforgettable experience while you are on your holidays in Mallorca.
This is a whole day guided excursion through the breathtaking area and places among Tramuntana Mountains. You get the chance to admire Sa Calobra with the gorge of the Torrent of Pareis, Port de Soller and the harbor, Soller and more in between. In itinerary you will find boat trip from Sa Calobra to Port de Soller, tram ride through lovely orange plantations to Soller and route by historic train of Soller. On this tour you are getting what is the best in Mallorca in one package.
In 2019 it was the most popular tour around the island. Pick up from hotel or near by makes it really suitable for our clients. We have also extra stop on one of the viewpoints to admire beautiful views from Tramuntana Mountains. Free time in all visited places to explore on your own.
We would like to appreciate the opportunity and say thank you to all our clients of year 2019, your feedback on TripAdvisor and our social media. We are really glad you enjoyed the time in Mallorca with us.
If you want to share your opinion about the Nofrills experience, please leave us a comment.