Top 10 best discount tickets to attractions in Mallorca
There are many things to do and places to visit in Mallorca. In this article our experts prepared the list with the best 10 options of discount tickets to the greatest attractions in Mallorca. Find what is the most interesting for you and book it in advance, especially if you are visiting the island during the summer season.
Palma Cathedral Priority Entrance with Guided Tour
The most famous and important building in Mallorca. The Cathedral La Seu in Palma is a must to visit place during your holidays. Especially if you have never been inside before, you should take the opportunity of this guided tour. Meet the centuries of history and place very significant for culture of Mallorca. With our local expert this visit will be for sure informative and interesting for you. With us you get the opportunity to skip the line at the entrance, so you will not waste your precious holiday time. In this price we also take you for a walk in the Palma Old Town. Perfect 2 in 1!

Book your discount ticket here

If you are interesting in history of Mallorca you can also enjoy our article below.
Mallorca has very eventful history, since prehistoric times through Phoenicians, Romans, Moors, Medieval Kings conquests… In this article we focus on moments with high historical significance, which have brought the island to its present cultural shape.
Palma Aquarium – entrance ticket with 10% discount
Palma Aqarium belongs to the range of the most famous tourist attracions in Mallorca. It is open whole year, so you can also spend there a nice winter day on the island. Variety of species, great prepared exhibitions and interactive areas makes the visit unforgettable. Dreaming about eye to eye meeting with the sharks? You are in the right place 😉 Visit to Palma Aquarium is a lot of fun for a whole family. If you book your discount tickets on our website, you will get the option to skip the waiting line on the entrance and use special entrance for visitors with online tickets.

Book your discount ticket here

Not convinced yet? Check our online visitors guide to Palma Aquarium and fall in love with the place!
Palma Aquarium is one of the best tourist attractions in Mallorca. In this guide we would like to share a lot of important information, so you can plan your amazing visit.
Marineland Mallorca online ticket with discount
Marineland Mallorca is a fascinating place to visit. Dolphins, sea lions, penquins and many more lovely creatures around are waiting for you to step by. Lovely location area gives you also a beach to enjoy the sunshine and restaurant with amazing views. You can spend a whole day in this amazing place and for sure not be bored. Our discount tickets give you opportunity to skip the line at the entrance and also free entrance for your driver. More details and possibility of booking by clicking the button below.

Book your discount ticket here

For those of you, who would like to find more information how to organize the visit to Marineland our experts prepared the following article:
Marineland Mallorca is one of the Mallorca's best known tourist attractions, and it is in operation since 1970, being the first dolphinarium that opened in Spain. Since then, the dolphin show is one of the main recommendations for families with children in summer.
La Reserva Puig Galatzo online ticket with discount
La Reserva Puig Galatzo has approx 3.5 km route, on which you can meet very nice inhabitants of the park. Among them brown bears, emus, deer, wild donkeys, peacocks and many more. You can also enjoy the views of several waterfalls and chillout in beautiful nature area. For sure very nice place for relaxing walk for couples or families, also with children. Good to know that our discount tickets are valid for 14 days, since the date you put during the booking, so no worries if you want to change your plans last minute.

Book your discount ticket here

If you would like to get a taste of the park right away, enjoy this short video with pictures.
Hidropark Alcudia Ticket with 10% discount
There are many places in north of Mallorca to enjoy a sunny summer day. One of them is the only water park on this side of the island – Hidropark in Alcudia. With our discount tickets you can skip the line and as their slogan says jump into the fun! You can enjoy several water slides, pools and children zone. There are also few bars available inside, so no need to bring a picnic with you.

Book your discount ticket here

If you would like to also spend an evening near the water and this park is already closed, we recommend to check the best beaches located near Alcudia.
Our experts have prepared this article for you to help you choose the best beach near Alcudia and in the north area of the island of Mallorca.
Aqualand Arenal online ticket with discount
The biggest and the most famous water park in Mallorca Aqualand Mallorca. It is located near Palma and if you are looking for a fascinating day out idea with your friends, you will not find a better place. Huge water slides, crazy speed and a lot of adrenaline combined with water fun. The ticket allows you to skip the entrance line and gives you 10% discount per person compared to the door prices.

Book your discount ticket here

Enjoy the ride!
Western Water Park online ticket with discount
Very unique water park designed as a western-style village and located also near Palma. It is full of water attractions with cowboy theme surrounding. Great for a day out with family and friends, includes big jacuzzi area and many top water slides as f.e. The Beast! You should totally try it out there! Thanks to our discount tickets you can avoid waiting at the entrance and save some money for yummy snacs inside the park 😉

Book your discount ticket here

Try all slides… online right now! 😉
Mallorca Boat Tour in Palma
This boat tour in Palma de Mallorca is a great idea for sightseeing the capital from the sea side. It is short – 1 hour – but gives you nice new perspective and great photo shots spots. It is a nice idea to spend time on the sea with kids, because is not so long and you can combine it with stroll around in the city. Lovely activity for everybody, who is looking for something extra during the day. With our online ticket you can skip the line and no worries that you will stay without the entrance, especially during the summer season.

Book your discount ticket here

For those of you, who are looking for more nice viewpoints in Palma and overall, we recommend our article with few stunning ideas.
In this article our experts invite you on an excursion through the amazing viewpoints of Mallorca. Prepare your camera!
Alcudia City Sightseeing Bus
If you are staying in the north of the island you can not waste the opportunity of this bus ride. Alcudia City Sightseeing Bus takes you around the area with the guide and shows the most important places. Nice idea to spend the late morning/early afternoon. Good also for those who not really like the city walks, and prefer to move a little faster.

Book your discount ticket here

As the local experts we are aware that one bus ride is not enough to enjoy the area of beautiful Alcudia. That´s why we prepared the article with recommendations of the most interesting things to do around. Check if you need an inspiration for your vacation.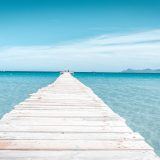 Alcudia is the most important and popular tourist place in the north of Mallorca. To make your choice easier on what to do here, our local experts prepared the list of 14 top things to do in Alcudia. Wish you fun!
Flyboard Mallorca 30 min
Adrenaline, fun, water, speed, craaaazy time flying up to 15 m over the Mediterranean Sea 😉 If you are looking for those things flyboard activity in Alcudia is for you. You can book it online in advance – recommended, especially during the summer season – and prepare yourself for 30 min of pure adventure.

Book your discount ticket here

For those travellers, who are looking for more adventurous time in Mallorca, our experts prepared the article of TOP 5 activities. Do not hesitate to check it!
Mallorca is a perfect place for adventurers! If you are looking for action, adrenaline and activities that go out of the ordinary, we have prepared a selection of best adventure excursions.
Hope that thanks to our information your choice of the best things to do and visit in Mallorca will be easier. If you have any additional questions or have done some of those activities with us, please leave a comment below.